Flavour Beast Flow - Disposable E-Cig (4000 Puffs)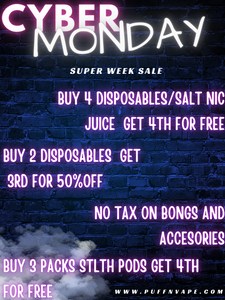 OUR COMMITMENT
Same Day Local Delivery on All Orders above CND $29.99 before tax
(Cutoff time for same day delivery is 5:00pm & orders delivered between 6-9pm)
Same Day Local Delivery: Free shipping on orders over CND $29.99 within Cambridge, Waterloo and Kitchener region.
Same Day Local Delivery: Orders below CND $29.99 - Shipping CND $5.00
FOR AYR: Orders below CND $49.99 - Shipping CND $10.0
Orders below CND $79.99 - Shipping CND $5.00
PRODUCT OF THE WEEK
Boosted Bar Plus (3000 puffs), featuring some of the best flavors our industry has to offer. Fine-tuned to perfection. Each Boosted Bar offers enhanced airflow and a leak-resistant design. 

Guaranteed satisfaction, featuring synthetic nicotine. Lab-produced nicotine is enhanced to feel similar to a 50mg/mL salt nicotine product. Available in 5 NEW Flavours.
BUY NOW
ABOUT US
PuffnVape is an elite vape store that continues to grow & expand as it strives to create a brand that delivers quality, service and excellence. We aim to serve that side of the population who want to have an enjoyable experience with vaping along with educated and well-informed professionals. If you are looking for opulent juices and vape products, we are here waiting to serve you.
SHOP SALE
Our store
PUFF 'N' VAPE
276-355 Hespeler Road
Cambridge, Ontario N1R 6B3, CA
Located In Cambridge Centre Mall near Galaxy cinemas
Mon - Fri, 10am - 7pm
Saturday, 10am - 6pm
Sunday, 11am - 5pm
SAME DAY DELIVERY
Free Shipping Over $39.99(FOR AYR$49.99)
Same day delivery within Cambridge,Waterloo & Kitchener
(For Orders received before 5pm)
Text Ordering
Order through text at
519-721-2938 or 519-577-3434
Flat Rate Shipping $5
Flat rate ($5) same day delivery on order below $49 (Cambridge/Kitchener)
Shipping & Payment
Orders received before 4pm will be delivered the same day.
Use "puffnvape@gmail.com" for interact/e-transfer payment .